L'enrouleur Cone to Hank de précision est doté d'un système de guidage de fil électronique, ce qui rend la longueur de formage intelligemment réglable.Il est pratique d'utiliser différentes longueurs de tubes et l'uniformité de la densité de formage pour les fils peut être garantie. Le contrôle intelligent de programmation numérique assure la formation précise des fils avec l'enroulement à grande vitesse en même temps.

Precision Cone to Hank enrouleur est utilisé pour FDY, DTY et autres deniers ultra-fins et filament chimique, à enrouler avec précision à la machine de couverture ou à la machine de torsion deux-pour-un pour l'utilisation de l' air de recouvrement et de torsion.
Précision Cone à Hank enrouleur, La stabilité de la formation de fils peut être garantie pour l'adoption de système de tension constante intelligent et système de suivi automatique de suralimentation.Système de contrôle de détection Encoder et système de calcul de longueur de broche unique garantir l'uniformité de la production de fil.Equipped contrôle de fonctionnement de broche unique, les fils peuvent être chargés et déchargés librement.Il réduit la consommation d'énergie et augmente la flexibilité de fonctionnement en même temps.
paramètres techniques
Machine form

Double-sided one layer, vertical spindle, 12 spindles per section

Winding form

Digital or precision parallel winding

Spindle distance

300 mm

Transmission

Single spindle drive

Number of spindles

60 spindles / station

Line speed

600-1200 m / min

Winding process

100 mm-160 mm

Close side angle

0 ° -60 °

Rated power

300 W / spindle

Suitable raw materials

FDY, DTY

theoretical output of a single spindle in 24-hour

Line speed * time (minutes) * 24 hours * D number




9000000
Dessin au trait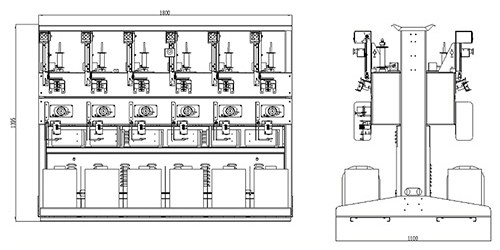 Groupes de Produits : Enrouleuse > Hank Reeling Machine